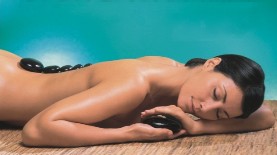 A professional body massage does wonders for reducing stress, relieving tension, both physical and emotional, by eliminating the built-up negative effects of everyday pressures. You will emerge from your treatment feeling completely relaxed, yet revitalised. Our massage services can be combined with any of our Spa Body Therapy services to allow you to customise your very own Spa Indulgence Escape.
---
Pregnancy Massage $57.95 (30 mins)
Swedish and Deep Tissue Massages
$57.95 (30 mins) /$89.95 (60 mins) /$129.95 (90 mins)
Hot and Cold Stone Massages 
$109.00 (60 mins) /$149.00 (90 mins)
Vichy Hydrotherapy Massage
$85.00 (30 mins) /$127.00 (60 mins)
Indulge your senses with a shower massage that is sure to transport you to another place.
Rejuvenating Body Polish (40 mins) $74.95
Invigorating granular beads with sensory aromas will remove dead skin cells, stimulate the lymphatic system and leave the skin silky-smooth.
Marine Clay Wrap (60 mins) $145.95
Begin with an intensive lavender exfoliation. Be cocooned with a formulation of Citrus and Jojaba Essential Oil and Marine extracts. This wrap eliminates dead skin cells, refines the skin's texture and invigorates the entire body by activating micro-circulations and eliminating impurities. Complete the experience with a beautiful Vichy Shower.
Combine a Vichy Rain Shower with any body treatment for the perfect spa experience. (15 mins) $49